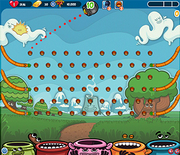 Level 1 is the first level of level of Fruity Forest and the first score level. This level requires you to get 10,000 points
Difficulty
Edit
This level doesn't have any difficulty. It is the first level in the game, so why should it? It is really easy to clear enough of the blockers to get 10,000, and the buckets make it WAAAAY easier to do so.
Target Score
Edit
1 Star - 10,000 Points
2 Stars - 15,000 Points
3 Stars - 19,000 Points
This level has no strategy at all to it. Just keep making bounces until you get the target score.
Walkthrough
Edit