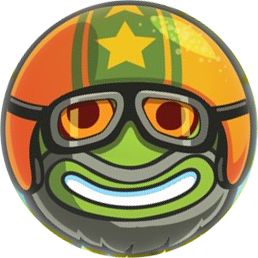 The pears used are also known as Papa Pears, as the name of the game suggests.
Using Pears on Levels
Edit
For different types of levels, (bringing down fruits, removing required resources such as carrots and acorns, and lighting up the buckets) a specific number of pears are given. You are to complete the level using pears by shooting them at the structures made up of acorns, carrots etc. For each unused pear, there will be a pear fever at the end of the game, when the remaining pears are shot out randomly, giving you more points.
Obstacles
Edit
Acorn-take one hit to destroy
Onion-take three hits to destroy, at the first hit it turns yellow and the second, blue.
Carrot-takes one hit to destroy. After being hit, it turns golden-yellow and disappears.
Grape-cannot be destroyed. It appears on the loading page.
Bamboo Pole-cannot be destroyed. It is movable in level 34.
Cactus-will burst the pear when its thorns are sticking out, but after which it would be inactive and sleeps. And will stick out thorns when being hit again. it will be burned with a fire pear
Episode 1: Fruity Forest
Episode 2: Pirates of the Pearribean
Episode 3: Pearamids